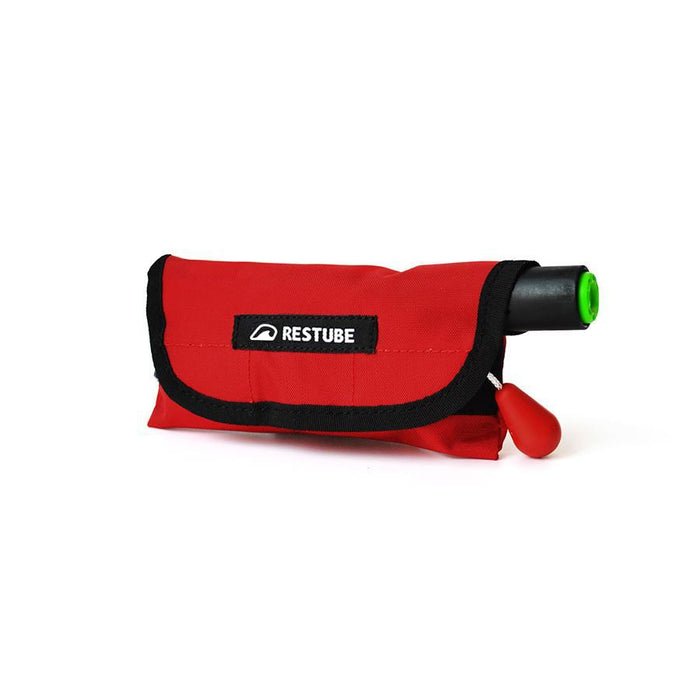 For drone & distance rescue
Restube automatic
Restube automatic is water activated. As soon as the Restube hits the water, it inflates within seconds.
2 intended purposes:
Rescue aid for swimmers in distress
Rescue aid for your falling into the water.
Lifeguard / Search & Rescue: 
This is intended to be thrown to a person in distress as it automatically inflates when it hits the water.
Drone:  
Drone use for dropping to a person in distress.
Attach to your drone as a precaution when flying it over water to locate your drone should it crash land in water to find it easily and keep it afloat.
Throw it to help a person in water. Manual triggering is also possible.
It's so compact it can even be carried by a drone. Drop it with a dropping system or fix it to your drone to get inflation in case of dropping the drone in water. Please comply with the regulations for flying a drone and dropping objects. Please contact us for information on suitable dropping systems.
Suggested accessory:  Restube Automatic Rearming Kit 
To rearm Restube automatic you need the Restube automatic rearming kit which includes one regular Restube CO2 cartridge, one trigger unit for water activation and one secure clip.
A belt is not included as it is typically not needed.
The RESTUBE is NOT a Coast Guard approved life vest as it does not go over your head or wrap around you.  It will not help you if you are passed out.  It acts as a flotation swim buoy to rest on and easy to swim with.
Classification: Buoyancy aid for water rescue
Placement: Watchtowers, rescue stations, emergency and water vehicles