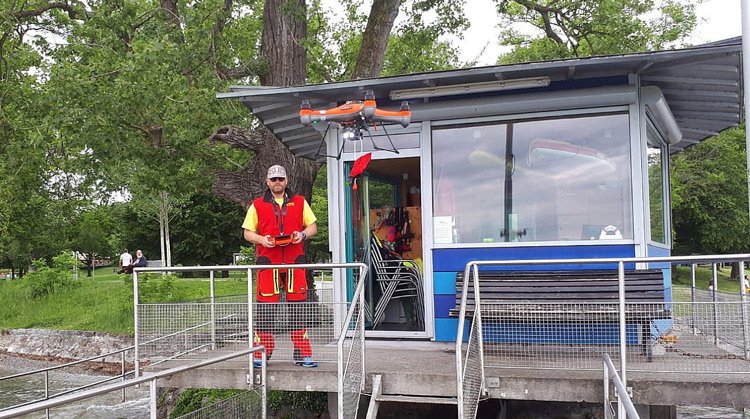 DLRG KONSTANZ RESCUES 13-YEAR-OLD BOY WITH DRONE AND RESTUBE

DLRG Konstanz Chairman Clemens Menge controls the drone
WHEN A TEENAGER FALLS INTO DISTRESS WHILE SWIMMING, DLRG KONSTANZ CHAIRMAN CLEMENS MENGE USES A DRONE TO DEPLOY A RESTUBE AUTOMATIC
Again and again swimmers get into dangerous situations. DLRG Konstanz relies on a new technology and has been using a drone equipped with Restube automatic for several weeks to rescue people. Restube automatic is a buoy that inflates itself within seconds when it comes into contact with water.
Last week, an exhausted young person was rescued from a dangerous situation in Lake Constance with the water rescue drone. The 13-year-old and two friends were on their way back from a raft to the shore when he ran out of strength while swimming in 16-degree cold water halfway along the way. When the boy signaled this, Clemens Menge from the DLRG Konstanz immediately flew the drone with the self-inflating buoy in the direction of the swimmers and dropped the Restube automatic over it. The exhausted youngsters could hold on to the buoy and swim back to the shore.
"Thanks to Restube automatic, which automatically triggers on contact with water, the situation could be defused immediately, so that it was no longer necessary to deploy our lifeguards", said Clemens Menge, Chairman of the DLRG Konstanz.
Rescue drone with Restube automatic
The only issue for the boys was "that they had to give back the Restube buoy", according to the lifeguards of the DLRG Konstanz.
The rescue was also reported on radio