Shipping Delays and COVID-19
Our warehouse has implemented safe working procedures to help prevent the spread of COVID-19. Due to this please allow up to 3 extra business days for delivery in addition to the times given below. 
Domestic Shipping (Continental US)
FREE SHIPPING (on RESTUBES) on orders over $50 in the USA delivered by USPS.
Due to the CO2 cartridge in the RESTUBE, there are limitations on shipping and we've found USPS to be the best option.  
30 Day return policy:  Just send it back like you got it with the packaging and manuals.  We'll refund you in full.  Please email us for return instructions: usa@restube.com
We ship domestically via US Post. You may choose at checkout. 
USPS 1st Class Package
USPS Priority Mail
USPS Priority Mail Express
Please note our shipping cutoff times: 
USPS Ground: 12pm EST (1-4 days) 
Any USPS expedited service: 4pm EST 
USPS Service Maps:
Choosing USPS Priority Mail gives you these shipping times from our warehouse in Minneapolis (transit days are business days).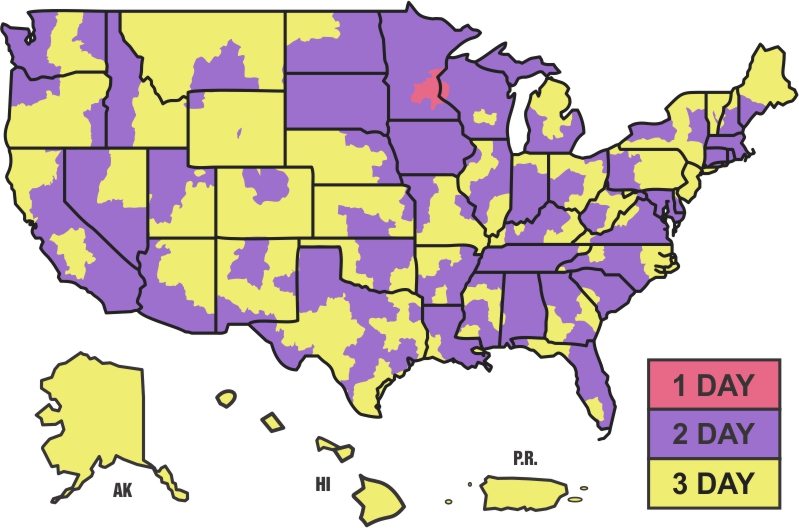 Shipping to Outside the US:
We do not ship outside the US. Please refer to www.Restube.com to find a local distributor.
More Info:
TAX: We do not manage any international tax or VAT collections.
Warranty: While warranty issues are very rare with RESTUBE, it can happen.  All orders shipped will be covered by the 1 year warranty.